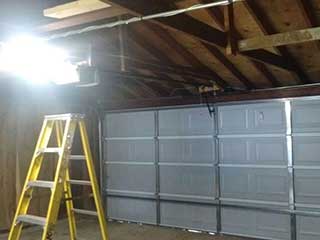 Your garage door opener is a motorized unit that is essentially the engine that powers the operation of the entire system. Just like any other complex electro-mechanical device, it is comprised of many different parts, all of which must be in a great condition in order to avoid a lot of potential accidents. There is a way for you to take care of a lot of maintenance tasks on your own, and doing so will help your opener last for much longer.
The Drive System
An opener that operates using a belt-drive may require only cleaning if it gets dirty. If it uses a chain or a threaded metal rod (as the screw drive models do), it will need to be lubricated as well. Lithium-based substances are usually the best choice, but you should consult your owner's manual to be sure.
The Rail and The Trolly
The rail should be checked for bending and loose bolts. If you can see that the trolley is worn or damaged, it should be replaced right away. The sections where the trolley gets into contact with the rail require lubrication as well, but if you are not sure how to do this, you should contact our experts.
The Emergency Release Handle
This is usually the red cord that you can see dangling from the opener unit itself. It should be easy to pull. It must disconnect the garage door from the opener immediately. If it doesn't work properly, it should be fixed or replaced.
The Different Brackets
These hold the motor unit in place and need a full inspection for damages. Loose bolts, bending and rugs are all serious problems that require an immediate solution. Our team can help.
Test The Safety Sensors
These small devices sit on the sides of the door, about six inches above the floor. They have been mandatory opener accessories since the introduction of the UL 325 standard, which dictates that every automatic door system must have a safety reversal system set up to prevent it from accidentally closing on a person or an object. Both sensors and their wiring should be checked for damage. If the wiring has cuts or twists which are impossible to straighten, it will need to be replaced. You can test the sensors by placing an object in the door's path and then order it to close using the opener. If your door doesn't reverse in time and hits the object, the sensors need to be realigned.
The Motor Unit
This unit houses the motor and the hardware connecting it to the drive system, as well as the circuit board and lights. A visual inspection will reveal physical damage to the unit. It's highly unlikely due to the strong plastic casing, but if you do discover anything, professional assistance is required.
The Control Panels
The casing, buttons and battery compartment of your opener remote control need cleaning with a bit of rubbing alcohol. If necessary, the batteries should be replaced. Since the wireless keypad is usually mounted outside of your garage, it will need to undergo more thorough cleaning. Any gunk around the buttons should be removed gently without the use of sharp metal tools. The keypad may also need new batteries, so make sure to check for that before you're done. As for the wall mounted panel, it is important that you check its casing and buttons for damage. Cleaning it can also help.
Seek Professional Assistance
If during your routine inspection you find any type of serious issue, you need to contact our team at Garage Door Repair Tacoma right away. Dealing with these issues can be dangerous, and must be done by professional technicians. Give us a call and we'll take care of it.