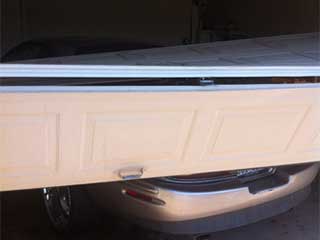 Emergency garage door repair requires great speed but also a methodical approach. Fixing something fast, but not well, will only temporarily solve the problem, and may even lead to more dangerous issues down the line. That's why you need a credible, high-class professional to take care of it for you. Our team has perfect the art of doing something quickly and effectively, without compromising quality in favor of speed.
It Can Be Inevitable
Regular garage door service would certainly eliminate a lot of problems, but every single part of your system has a finite lifespan, and eventually, every one of its components will need to be replaced. However, if that does not happen in a timely fashion, the wear and tear of daily life will gradually take its toll and lead to an unexpected breakdown. Either that, or some unforeseeable accident, such as a car collision, can suddenly stop your door from operating. A lot of problems can require urgency, which is what our emergency task force is here for. We'll respond as quickly as possible, and make every possible effort to solve your problem as soon as we can.
Service For Every Brand
You can rest assured that all our professional technicians are fully capable of handling all types and brands of doors and openers. We are experienced with Liftmaster sensors repair and can certainly fix broken springs and cables extremely quickly, without taking any unnecessary risks. We actually prepare our vans in advance and we make sure all of our teams carry all the necessary equipment and are fully equipped with first-class garage door repair parts.
Anything You Need
Our goal is to provide you with fast repair services without compromising the quality of the work. For this reason, we are constantly making sure our technicians undergo regular training and requalifications. We keep our skills sharp so you won't have to worry. Call us as soon as you find yourself facing any type of problem.