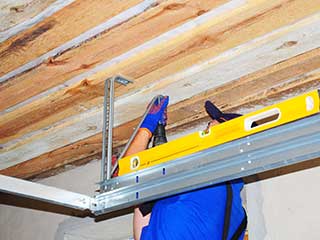 If your garage door isn't working as well as it used to and you don't know what went wrong with it, or if the problem is clear and you need somebody to fix it, we can help. Our team has a great deal of experience repairing every type of automatic overhead or roll up door out there, and we can solve any issue you're dealing with.
Troubleshooting is Our Bread and Butter
Not every problem immediately presents itself to you. Sometimes you can just see or hear that your door is struggling, without being able to tell exactly why that is. Our technicians can. We know what to look for and where to check and – most importantly – how to fix it after we've found it. That's what we do best.
Fixing Rollers and Tracks
The tracks are the parts responsible for guiding your door, while the rollers are the ones who make it easier for the panels to actually move. Both of these components can wear out or become deformed or misshapen over time, at which point they'll need to be either fixed or replaced. Track repair and roller replacement are two tasks that our technicians can complete very quickly and effectively. You should avoid trying to perform these repairs by yourself, as your door could collapse if you aren't one hundred percent sure of what you're doing. Even then, there's still a chance, so it's best that you leave this up to our experts.
Spring Replacement is No Menial Task
The springs that support the weight of your door and assist in its movement are under a lot of stress. That means that when they snap, not only will the door slam shut, but the damaged spring itself could go flying. It's easy to see why dealing with these components can be so dangerous, which is why you should contact our team whenever you need them adjusted or replaced.
Count On Us
Whatever you need, we can do it. Our experts at Garage Door Repair Tacoma will be more than happy to help you with any type of problem. All you need to do is call us.
Need more? We also provide:
Belt Drive Opener Installation
Roll up Garage Door Maintenance
Garage Door Torsion Spring Replacement