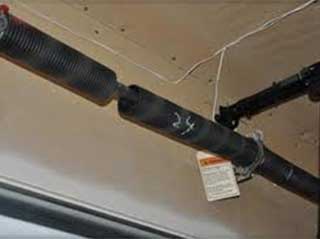 Garage doors use one of two types of springs to support the weight of their panels and help them move up and down smoothly and effortlessly. Each of these components operates quite differently in order to achieve a similar goal, but they are both extremely dangerous to handle without professional training.
Torsion & Extension Springs
Torsion springs are installed above your door, across a steel bar. They twist up while your door is closed, storing a lot of tension in their coils, which they later release via an unwinding action that allows them to lift the door off the ground and open it. Extension springs are usually installed in pairs, each one above the right and left track. Usually, a safety cable runs through each of them and attaches to the wall or ceiling of the garage. In the event of a breakage, this safety cable keeps the spring or pieces of metal from flying around and injuring someone. These components stretch while the door is closed, and then contract and use their stored tension in order to open it.
Out of Balance Springs
If your springs are out of balance, you may see that your door is starting to tilt. That means that the tension is not distributed evenly between them, and one is more than likely straining more than the other. You most likely will also have a difficult time opening and closing your door. Preventive maintenance can usually prevent this, as our technicians will routinely lubricate your springs to ensure their efficiency, and check their condition and their tension to make sure they are able to operate flawlessly.
Mishandling Is Dangerous
Trying to install, repair or even adjust any type of springs by yourself, given the extreme tension that these parts are under. Any attempt could result in serious injury, or further damage to your door and many of its other components. Our professionals have the right tools and experience to do the job safely, and you should reach out to our experts at Garage Door Repair Tacoma when you find yourself dealing with any type of spring-related problem.
When it comes to your door, we don't settle! We also offer:
Garage Door Tune Up Services
Garage Door Off Track Repair
Screw Drive Opener Replacement
Garage Door Extension Spring Replacement