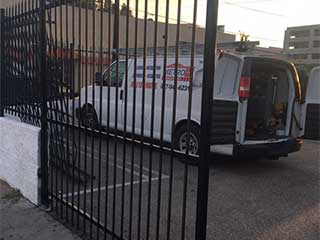 Many gates may seem simple in their design and functionality, and when things go wrong, it can be very tempting to consider attempting the repairs yourself. However, this is a mistake that can often lead to worse troubles down the line, or even cause some serious injuries. You should always leave gate repair and installation tasks up to our professional team.
Expert Welding Repair
It is very common for all types of gates to feature iron detailing, hinges and other important metal parts. When these parts suffer from degradation and start to weaken, they can require some welding work to replace or repair. Metal hinges are a vital part of your gate, especially if they are bearing the load of a very heavy and large design. Welding is incredibly dangerous. No matter how easy some people might make it seem, it's a practice that requires extensive levels of training and experience to conduct safely. The consequences of executing it incorrectly can be incredibly dangerous as well as cause irreparable damage to your gate.
New Opener Installation
This can be a far more complicated and demanding task than what some may believe. It is essential for a modern gate opener to be installed very carefully. These units feature photo-electric sensors, a motor and circuit board, as well as a drive system, all of which require special expertise to handle. If the safety sensors are not aligned correctly the gate will not function, or worse, will function but won't be able to detect an obstacle is blocking its path. If the chain or belt drive is not adjusted appropriately, it can suffer from increased strain over its lifetime or may come loose at some point in the future. Every component of the system needs to be working correctly, and in the vast majority of cases, only a professional will be able to ensure this.
Thorough Troubleshooting Services
When our technicians approach a problem whose cause isn't immediately clear, they go through a step by step list of guidelines to identify the exact reason that your gate is not working properly. That way, nothing is missed, and any problem that may not have become obvious immediately gets discovered and addressed on the spot.
Commercial and Residential Gate Repairs
Our team at Garage Door Repair Tacoma can take care of any type of gate-related problem at your business or home. We can even help you find the perfect opener with all of the latest technological features or a new intercom system that will make using your gate a treat, rather than a trial. Contact us today.
Our team can also take care of: