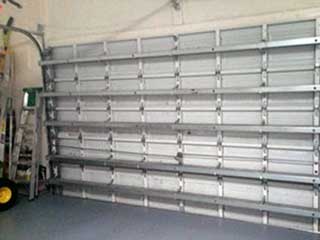 Make Sure Your Door Continues Functioning
Without regular maintenance to keep your garage door in the best shape, it's likely to start degrading and break down more often than it should. It can even cut short the lifespan of the door overall and require you to get it replaced! Avoid this hassle by simply scheduling periodic maintenance services. Professionals checking for rust, a lot of wear on parts, and otherwise can help make sure your door continues to run smoothly and efficiently and help it last much longer overall as well thanks to reducing strain on the system. That's why getting it done now rather than later is for the best!
Important Safety Sensor Testing
Rather than worry yourself about how safe your kids and pets really are around your garage door, make absolutely certain they will be with regular safety sensor tests! Our experts will carefully inspect and check to see whether the sensors have been bumped or shifted that may be affecting their ability to function and fix any issues that we may find. These sensors are what tell your door to stop and reverse if someone or something moves under the door while it's closing, which is why they're so vital!
Your Door Will Work Smoothly Again
Getting your garage door's parts lubricated every now and then both helps to keep the door sliding easily over the tracks, as well as can help keep the parts themselves from breaking! Your door will eventually start to slow over time if left alone which can get frustrating but lubricating the various parts will get it opening and closing far faster again! These parts can also become more likely to break over time from brittleness, but lubrication helps this issue and keeps them more flexible.
Reach Out To Our Team
Rather than keep suffering with a dragging garage door, or worrying about the safety of your family, just have our professionals come out and take a look! Call Garage Door Repair Tacoma today.
You can also count on us for:
Opener Sensor Replacement
Extension Spring Adjustment
Garage Door Tune Up Services
Broken Garage Door Spring Replacement